Projects
Panama Teak Forestry is a vertically integrated company structured to maximize investor returns while helping to preserve the world´s tropical forests. To become a shareholder in this profitable, ecologically responsible company, please contact us at invest@panamateakforestry.com.
---
Mill and Processing Facilities
Panama Teak Forestry´s core assets are our multi-aged stands of high-quality teak trees. To maximize yield to investors from our timber, the company is bringing facilities on line to let us manage the lumber production process from start to finish.
The tropical timber industry is typically very fragmented, with multiple intermediaries between the owner of the trees and the consumer of the finished wood product. Current wholesale prices for teak lumber range from 6 to 10 times the price paid for teak logs. After factoring in the cost per board foot to mill and kiln-dry teak, including equipment depreciation, we have determined that processing our own timber will increase its value about threefold over the value of unprocessed logs.
Operating our own mill and drying kiln offers several advantages. The mill and kiln are located on the Llano Grande site of one of Panama Teak Forestry´s most productive teak stands. This location is close to the company´s other timber properties, which reduces log shipping costs. Panama Teak Forestry has timber stands of multiple ages; over time, these stands will furnish a steady supply of teak each year to be milled and kiln-dried and provide year-round employment for our mill workers. In the short term, as an additional profit stream for Panama Teak Forestry, we plan to offer milling services to other timber companies in the area. Over time, however, we expect to produce more wood from our own timber properties than can be processed in our current mill. At that point, we will have the option of selling some teak as logs or expanding the mill.
About Our Mill and Kiln
Panama Teak Forestry is putting its sawmill into production. The first production run will be processing the thinnings from the company´s timber stands. We will also begin to use our efficient Nyle dehumidifying kiln to dry the lumber.
The milling facility includes an office and mill house, more than 40,000 square feet of processing and warehouse space, and a new equipment building. The primary saw is a 3-1/2 inch band saw plus a 24-inch heavy-duty planer, which will enable us to produce precision imensional kiln-dried export quality teak lumber. The next step will be expanding our processing facilities to produce a line of teak furniture at our Llano Grande facility.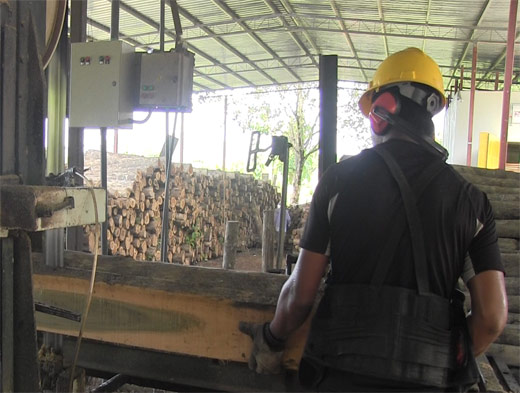 There are costs associated with setting up and running a mill and kiln. But the bottom line is that, over time, milling and kiln-drying our own lumber should more than double the net return to the shareholders of Panama Teak Forestry.